Coaching to Help Your Employees Reverse Chronic Disease
The Journey 2 Health (J2H) helps employees reverse chronic disease and feel their best with one-on-one health coaching and a 12 month online curriculum based on science.
SAVE MONEY
By helping your employees take steps to reverse chronic disease, you save money. This focus helps reduce risk, develops a healthier workforce, and lowers your health plan's costs.
create life-changing relationships
Provide your employees with effective coaching relationships with professionally trained J2H health coaches. We also help you identify specific employees who are ready for a health coaching relationship, so you maximize your investment.
Empower and educate with an online curriculum
J2H participants receive a science-based curriculum around how to Eat Well, Move Well, and Live Well. Coaching and curriculum engagement is all available real-time on the web and on our iPhone and Android J2H app.
... and Improve your great culture by adding J2H
The great management guru Peter Drucker once said: "Culture eats strategy for breakfast." We believe that is true, and we help ensure that your culture is all about eating well, moving well, and living well. J2H offers a comprehensive twelve-month curriculum that teaches participants to do just that. It's not a quick fix. But in another year from now you'll wish you had started creating a culture of health today.
Like You, We Are Frustrated with Rising Healthcare Costs
The annual Kaiser Foundation Employer Health Benefits Survey reports that average premiums for employer-sponsored health plans increased to $18,764 for families and $6,690 for individuals (see chart). It's an absolutely stunning amount to spend on health "insurance" especially when combined with increasing deductibles and out-of-pocket maximums.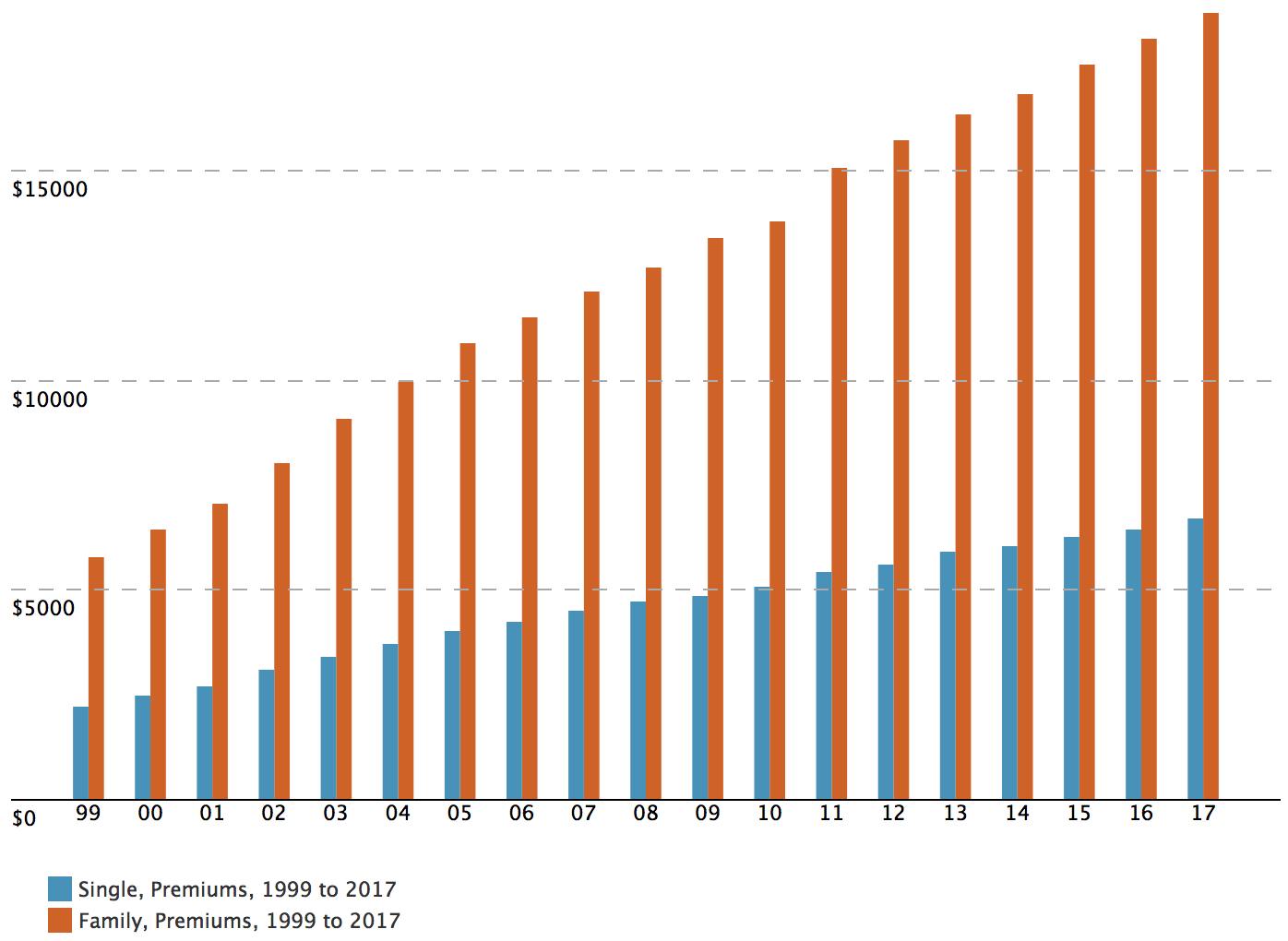 Healthcare Premiums Rising
How could lower healthcare expenses help your business, and your employees' families?
Avoid Healthcare Frustations Like These Clients
The good news is that it only takes a 30-minute call to get started. Our three step purchase plan guides you through the entire process. You can immediately benefit from the EHOP Health team's years of experience to see how J2H can strengthen your company by helping your employees reverse chronic disease.
Schedule a 30-minute Discovery Call with EHOP Health to explore how J2H can help your employees reverse chronic disease.
We work directly with your management team to evaluate how to best integrate J2H into your unique workflow, operations, and culture.
J2H makes good health personal. Throughout implementation, we work alongside your team to ensure a successful roll-out with a combination of our people and technology.
The J2H Guarantee
Only Pay for Engaged Employees
Never pay for inactive employees, only those who leverage the power of coaching so that you don't waste another dime on ineffective wellness initiatives.
"Hamp the Champ" Williams
Taking a chance has paid off big time for Hamp Williams and his employer Harriss and Covington Hosiery Mills (H&C) in High Point, North Carolina. When H&C invited Hamp to join the Journey 2 Health in January he had just gotten over a four month struggle with gout that had plagued him in some way every fall since 2005. Read More
Mindset: AMBER's Key to Creating Lasting Change
Amber is proud of herself, but not just for losing 45 pounds and dropping three pants and three top sizes. She is proud of the fact that she changed her mindset and was open to new opportunity. When the Journey 2 Health program was offered she thought, "what's the worst that could happen?" Fortunately she gave it a shot and is enjoying the fruits of her new mindset. Read More
The Power of Teamwork: A Couple's Journey 2 Health
Meet Nawana Thomas and her husband. Just six months into their Journey 2 Health, this couple has lost 100 pounds and made progress reversing diabetes. How have they experienced such success? According to Nawana's coach Jeanine Finelli, "Nawana loves learning so she reads all of her Journey 2 Health lessons and incorporates them into her life. She and her husband are working together to get healthier which is beautiful teamwork to witness." Read More
Helping Himself to Help Others
Ronnie Maynard has two major goals: to make a positive impact on his family and to help others. Last year, Ronnie and his wife received some of the most joyous news ever: they were going to be grandparents. While they eagerly anticipated their first grandchild, he decided to commit to the Journey 2 Health offered by his employer, Harriss & Covington Hosiery Mills. Read More